THE ADAM MONKE & FREMONT YMCA WH(Y) RUN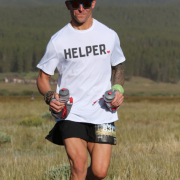 Friday, April 24, 2020
Long time ultra-marathoner Adam Monke was scheduled to run the Prairie Spirit 100 mile race in Kansas City on March 28th, but like many events the race was cancelled due to COVID-19. Training for this distance is not only achieved by running many miles but also involves the science of balancing nutrition, hydration, recovery, sleep and optimizing when precisely to peak.
Adam's redirected his hard work and training to his community and is joining the HELPER movement to aid in delivering hope and awareness while running across a portion of Nebraska during Friday, April 24th WH(Y) RUN.
Adam's run will serve as a fundraising platform to benefit the Fremont Family YMCA. All money raised will go directly to the YMCA to help support childcare and school aged services provided for families with medical personnel and first responders helping with COVID on the front lines. These funds will also help with additional youth programming and summer camps. Adam will also run to honor the legacy cancelled race for Alex Lamme.
ABLE and The HELPER brands are keynote sponsors along with local brands, Opendorse, Eagle Distributing, Sid Dillion, Pinnacle Bank, Edward Jones and All Metals Market, Preferred Auto Reconditioning - and more.
Adam will start at the Fremont Family YMCA and will run through Mead, Ithaca, Waverly, and Lincoln where he will make a turn at the Lincoln Downtown YMCA before passing through Wahoo to then return to Fremont. The total distance will be 104 miles.
You may find many familiar faces alongside Adam throughout his journey, some will run for short socially acceptable distances with him, while others are invited to cheer him on from the sidelines as he makes his way through iconic Nebraska communities and sites.
HERE'S HOW DONATE/GET INVOLVED
Donate directly to Adam's Y-RUN
Snag a HELPER t-shirt provided by ABLE*

Click Here




*ABLE and HELPER will donate all proceeds of each t-shirt sale directly to Adam's YMCA WH(Y) RUN.
All proceeds not only helps support childcare and school aged services provided for medical personal and first responders helping with COVID on the front lines. Your donation will also help our youth programing, summer camps, Special Olympics Athletes and active older adult programming. Your donation helps change lives in the Fremont and surrounding communities.
HERE'S HOW TO FOLLOW
INSTAGRAM: @ablecbd @adam_monke @YMCAfremont
FACEBOOK: @ablecbd @fremontYMCA
TOGETHER WE CAN BUILD A BETTER US.
$25 could pay for a child to participate in one of our youth sports programs
$50 could sponsor a Special Olympics athlete's membership for one month
$100 could give peace of mind to a single parent because his child is enrolled in our school aged program and your donation brought his cost down
$200 could provide 5 kids with lifesaving skills and confidence around water through 6 weeks of group lessons
$500 could help on household afford the costs of a Y membership through our Open Doors Financial Assistance Program
$1000 could help 7 kids go to Summer Camp at the Christensen Family YMCA camp.
Massive HELPER thanks to our partner companies supporting the WH(Y) RUN:



All Metals Market, Brewskys, CR Menn Concrete, Daubert Construction, Diers Ford, Don Peterson & Associates, Eagle Distributing, Erickson & Brooks, Edward Jones, First State Bank Trust, Fremont Auto, Fremont Electric, Fremont Eye Associates, Getzchman Heating and Air, Inspro Insurance, Kelly Ryan Equipment, Lou's Sporting Goods, Max Nutrition, Mead Fire Department, Moostache Joe Tours, Nebraska Irrigated Seed, Nebraska Ortho PT, Nye Health Services, Opendorse, Pinnacle Bank, RMD Promotions, RTG Medical, Shall Hull Navarette, Sid Dillon Chevrolet, Sid Dillon Harley Davidson, S&S Pumping, Veskerna Equipment Sales, Vics Photography and Video, Victory Lake Marine, Wiese Plumbing, Ys Men's Club

Chairperson's Round Table and I AM A Y Friend